CCS and Timing
Worldwide

Scientists agree that global warming should not exceed 2.0 degrees Celsius to avoid extreme climate events. To ensure this target it is imperative that greenhouse gas emissions peak in 2015. And if the level of CO2 in the atmosphere should return from the present 389 ppm to 350 ppm, which is the recommendation from a growing number of scientists, the emissions should actually peak in 2011.

A hundred nations including the EU endorse a target below 2 degrees.
The Association of Small Island States (AOSIS), one of the negotiation groups in the UN have demanded that global warming must be kept below 1.5 degrees Celsius.
Rajendra Pachauri, chairman of the UN Intergovernmental Panel on Climate Change (IPCC) said in 2008 presenting the IPCC Fourth Assessment Report: " ... we would have to stabilise the greenhouse-gas concentration at more or less the level at which we are today ... But in order to do that, we have a window of opportunity of only seven years because emissions will have to peak by 2015 and reduce after that. We cannot permit a longer delay. "
In such a timetable CCS is utterly incapable of delivering significant reductions, in fact CCS tends to become part of the problem by tying up resources that could be used to reduce emissions. The chart below shows that the total reductions from CCS in 2015 is close to zero, while in 2020 – even in this optimistic scenario by the International Energy Agency (IEA) - is still hard to discern.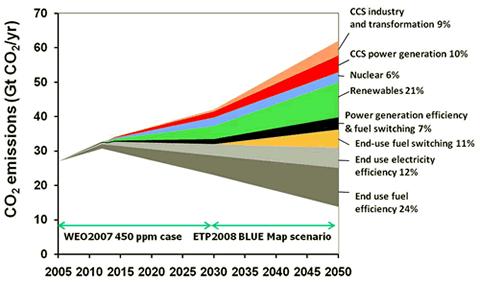 Source: IEA Energy Technology Perspectives 2008

Moreover: these 25-33% of the CO2 emissions from a coal-fired power plant equipped with CCS, that will not be captured, in itself represents a substantial contribution to the accumulation of CO2 in the atmosphere.


EU

In the EU, where the CCS technology is a top priority, the EU Commission during the preparation of the Directive on geological storage of carbon dioxide (CCS Directive) stated the following:

How much will CCS Contribute to reducing CO2 emissions in the EU?

"The precise contribution will depend on the uptake of CCS. However, projections made for the Impact Assessment of the Commission's proposal for the directive show that, with CCS enabled under the ETS and assuming a 20% GHG reduction by 2020 and further significant progress towards our mid-century objective by 2030, 7 million tonnes of CO2 could be captured in 2020, rising two around 160 Mt in 2030."

7 mill. tonnes in 2020 correspond to less than 0.2% of EU27 emissions in 2005 whereas 160 mill. tonnes in 2030 correspond to some 4% of 2005 emissions.

NOAH's position on the timing issue of CCS